May 7, 2021 04:08 PM Central
John & Sherry Root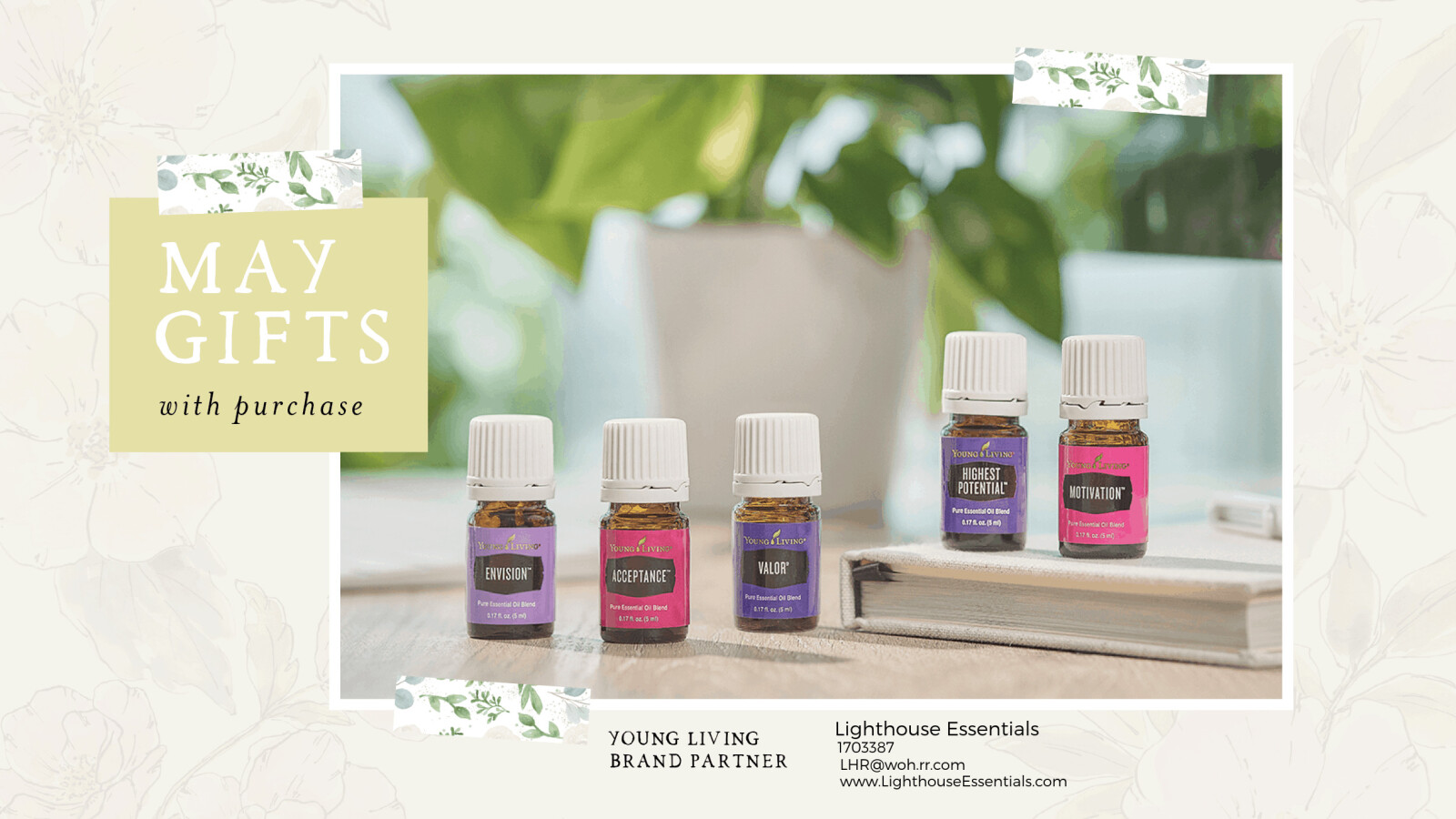 From monthly promos to our oil of the month to recipes and diffuser blends, all the great things for May are right here at your fingertips, and they are not to be missed!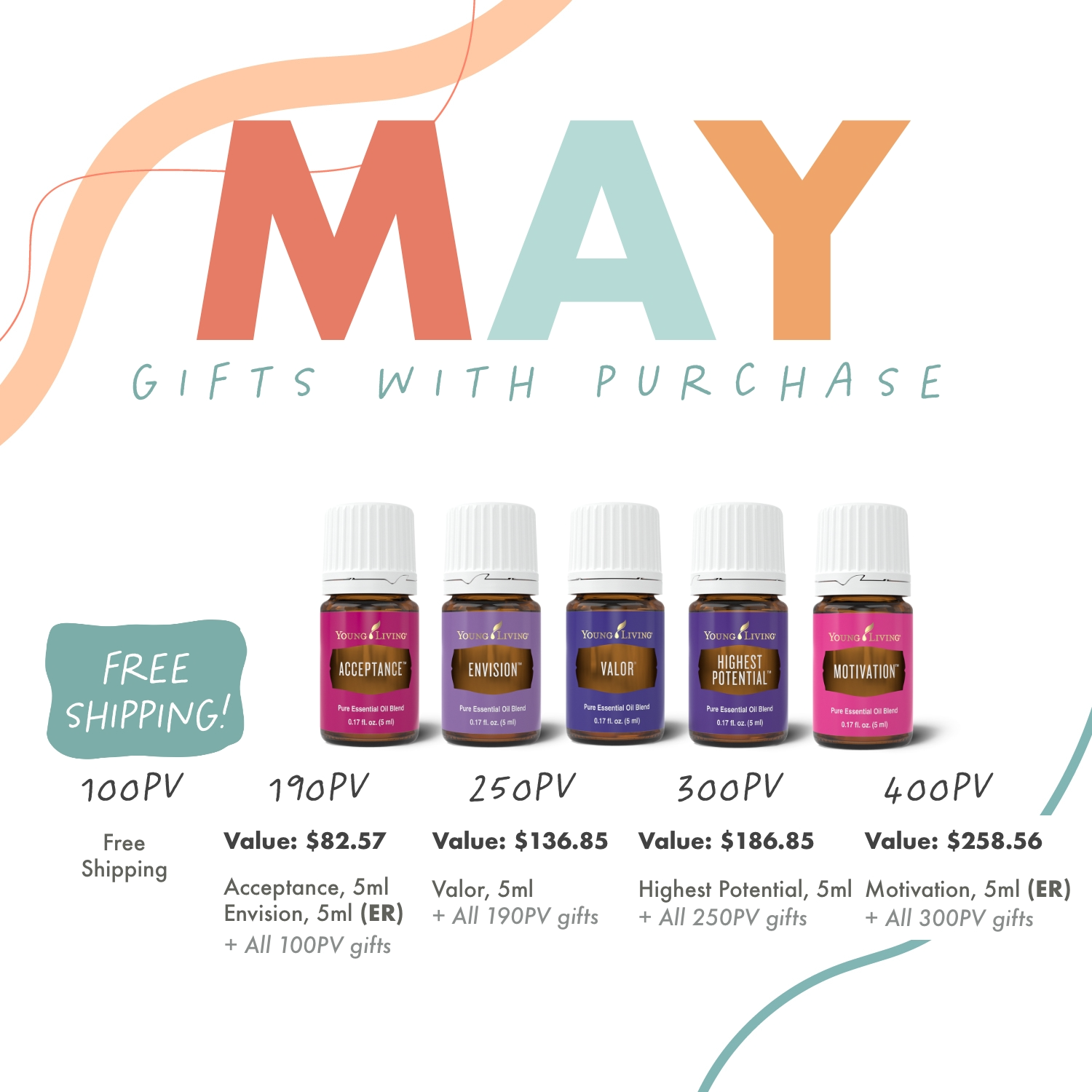 Every month this generous company loads us up with free items simply for being loyal customers. We purchase items we'd be buying anyway - toothpaste, lotion, shampoo, makeup, supplements and cleaning supplies, etc - from Young Living, and we not only get amazing, high quality products that are safe for our families, we get free products, free shipping, delivery to our doorstep and product credits galore!
During the month of May... With any order (Essential Rewards or shop order) of 100PV or more you will receive a FREE SHIPPING!!! Treat yourself to something special and let YL cover the shipping. Simply reach the 100 PV tier and your qualifying order will ship for free!
With any order (ER or one time shop order) of 190PV or more, you'll receive a free 5mL ACCEPTANCE oil blend and free shipping! If your order is an Essential Rewards order you'll also receive a free 5mL ENVISION!! Retail value: $82.57
With any order of 250PV, you'll receive a free 5mL VALOR oil blend, a 5mL Acceptance blend, and free shipping!! If your order is an Essential Rewards order you'll also receive a free 5mL Envision oil blend!! Retail value: $136.85
With any order of 300PV, you'll receive a free 5mL HIGHEST POTENTIAL oil blend, a 5mL Valor oil blend, a 5mL Acceptance blend, and free shipping!! If your order is an Essential Rewards order you'll also receive a free 5mL Envision oil blend!! Retail value: $186.85
With any order of 400PV, you'll receive a free 5mL Highest Potential oil blend, a 5mL Valor oil blend, a 5mL Acceptance blend, and free shipping!! If your order is an Essential Rewards order you'll also receive a free 5mL MOTIVATION oil blend and 5mL Envision oil blend!! Retail value: $258.56
For more details and ways to use these incredible free oils, see the Monthly Promos resource!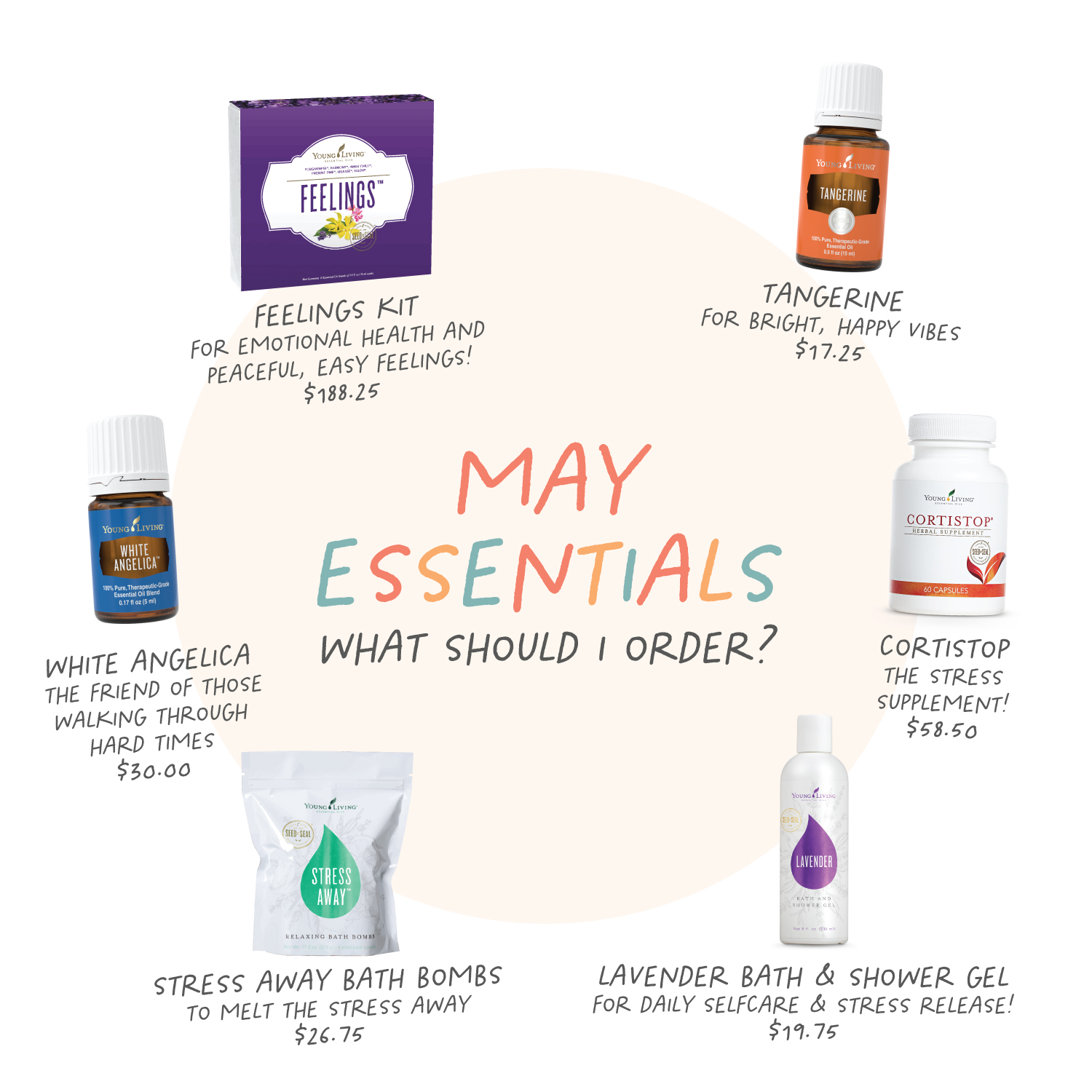 For the month of May we are focusing on releasing the emotional weights that are tying us down and releasing the physical stress within our bodies! Stress-free summer here we come! Here are a few items we are using this month and beyond to cultivate the stress-free summer we desire!
White Angelica essential oil: the friend of those walking through hard times $30
CortiStop: the stress supplement! $58.50
Feelings Kit: for emotional health and peaceful, easy feelings! $188.25
Stress Away Relaxing Bath Bombs: to melt the stress away $26.75
Tangerine essential oil: for bright, happy vibes $17.25
Lavender Bath & Shower Gel: for daily selfcare & stress release! $19.75
For more check out the May Essentials Resource!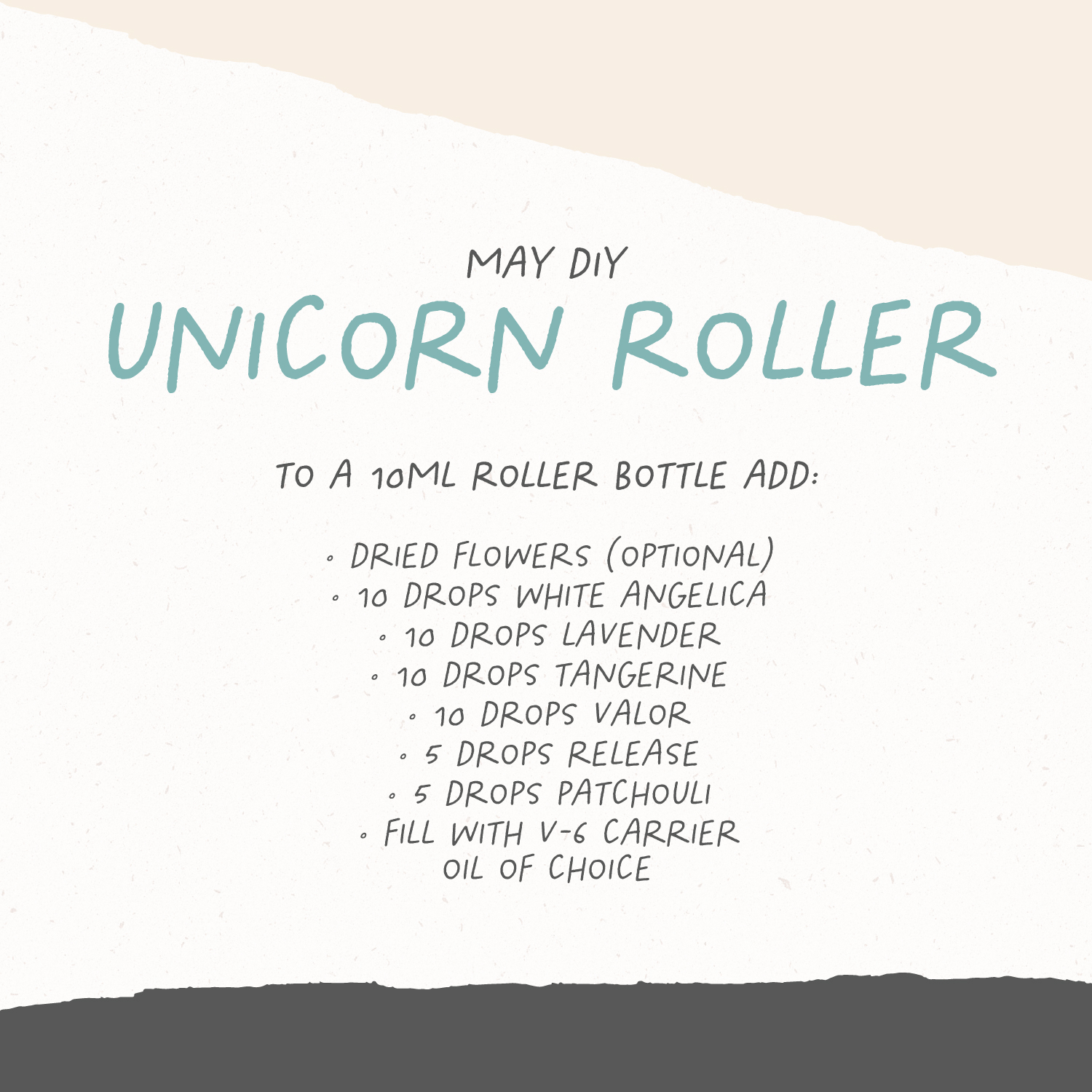 To a 10mL roller bottle add:
Dried flowers (optional)
10 drops White Angelica
10 drops Lavender
10 drops Tangerine
10 drops Valor
5 drops Release
5 drops Patchouli
Fill with V-6 carrier oil of choice
To use, roll over the heart, behind the ears, over the wrists. Sit for a moment and breathe deeply as you repeat a positive affirmation or prayer. If you can, sit in stillness until you feel an emotional shift! If you don't have the time or space for that, simply breathe deeply and remind yourself that you are safe, loved, valued and enough.
For more check out the May DIY Resource!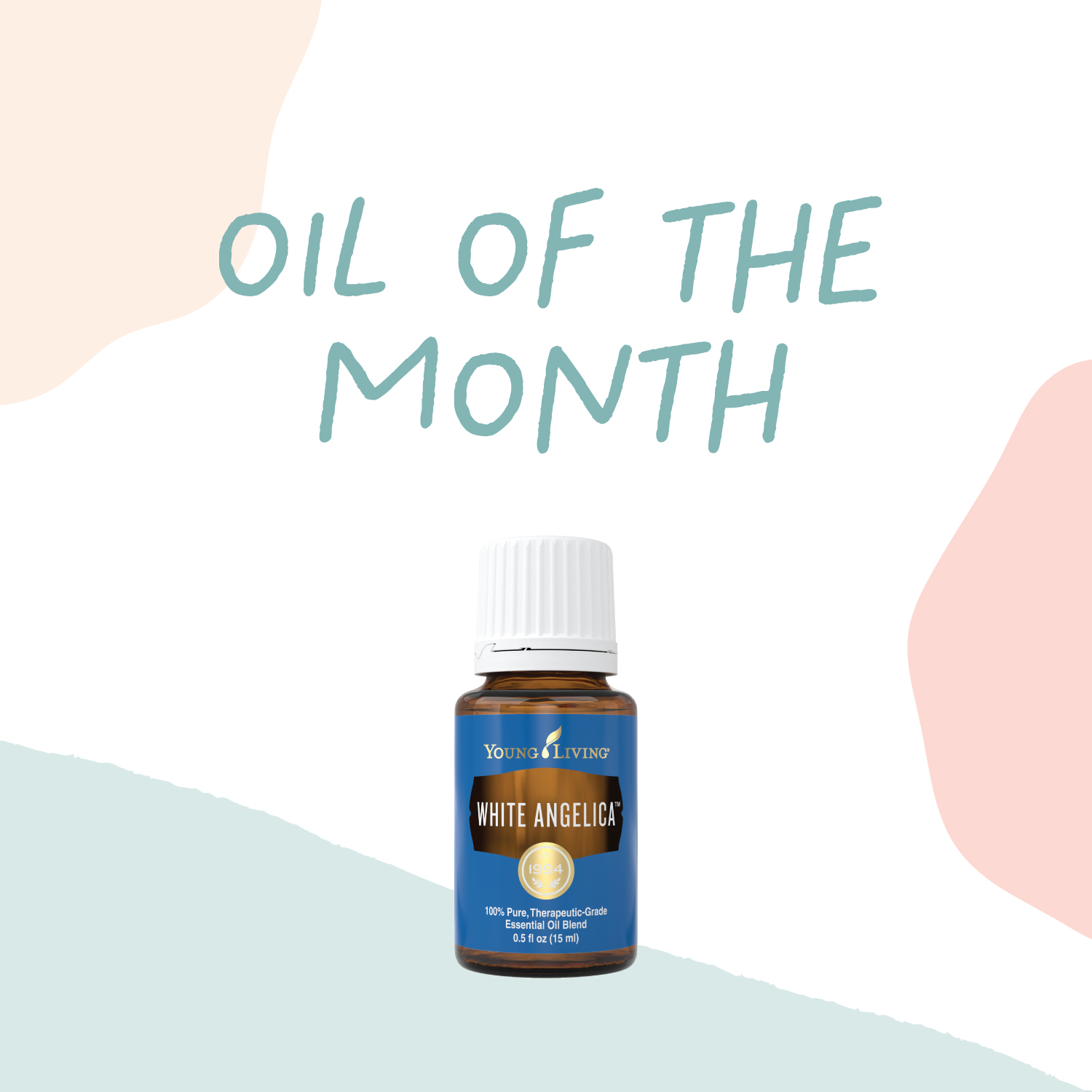 Each month we focus on using an oil every day to help us in accomplishing our goals. Join us in choosing a method of application and simply getting this oil on and around you every day in May!
DAILY HABITS WITH WHITE ANGELICA
Add it to your favorite moisturizer to enjoy its skin-beautifying benefits.
Apply it to your wrists and neck like perfume to enjoy a lovely fragrance and emotional support throughout your day.
Make a Peaceful Easy Feeling Roller:
10mL roller bottle
10 drops each: Joy, Release, White Angelica, Tangerine, Lavender
Fill with carrier of choice
Apply to wrists, neck, over the heart for all the emotions!
Apply it before providing the Raindrop Technique or other massage or body work treatment to facilitate emotional release.
Use it during yoga or meditation to create a positive and comforting atmosphere. Pair it with positive affirmations or bible verses for an even more powerful experience.
For more, check out the May 'Oil of the Month' resource!! Let's create healthy habits and healthy homes together!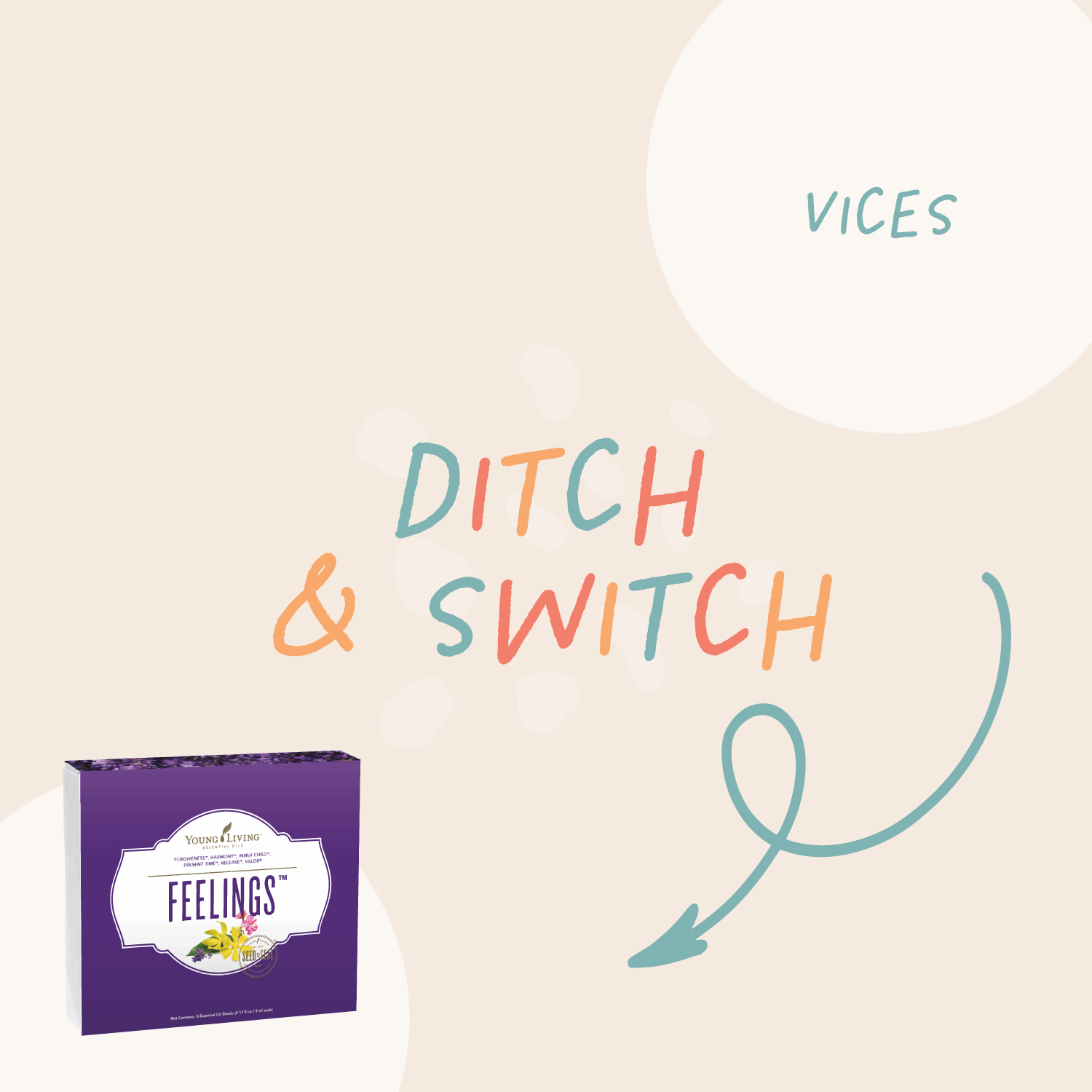 For May, we are focusing on digging deep to release all our comfort vices, sit with and honor our experiences and trauma, and do the emotional work needed to move forward in healing and self love. Instead of turning to things like detachment, Netflix binges, alcohol, food, sugar, shopping, work, projects or any other comfort measure that keeps us from truly processing the emotions beneath, we are going to pull out the Feelings Kit and use these oil blends with intention and consistency!
If you are wrestling with big emotions or trying to process hard situations, here is a great protocol developed by Gary Young that you can follow using the Feelings Kit:
Step 01: Apply Valor to the feet as the first step of the Cleansing of feelings.
Step 02: Apply Harmony on the chakra points to allow negative energy to escape.
Step 03: Apply Forgiveness to the navel and let go of negative emotions.
Step 04: Apply Present Time to the wrists and behind the ears.
Step 05: Apply Release over the liver and wait as feelings of frustration are lifted.
Step 06: Apply 1–2 drops of Inner Child just under your nose to open the pathway to connecting with your inner self.
Step 07: Lastly, re-apply Valor essential oil to complete the cleansing of feelings and provide completeness and balance.
For more check out the May 'Ditch & Switch' resource, then join us this month as we make this simple swap that can have a huge impact on our overall health!
Stress stored and fought by the body is possibly the number one health danger. It is truly a killer. Making sure we have tools to help our bodies physically and emotionally deal with stress is one of the biggest changes we can make in our health!
When cortisol is produced too frequently, it can have negative health consequences such as feelings of fatigue, difficulty maintaining healthy weight, and difficulty maintaining optimal health of cardiovascular systems. When cortisol levels are chronically high, it affects the hypothalamic-pituitary-adrenal axis, basically affecting all your hormones and disrupting the natural feedback loop.
Enter CortiStop. CortiStop is an herb and essential oil supplement that helps to naturally balance the stress response by calming the body and lowering cortisol levels. As cortisol declines, strength and energy return, and the body moves back to a state of equilibrium.
For more check out the May 'Supplement Spotlight' resource, then join us this month as we support our overall health with this incredible supplement!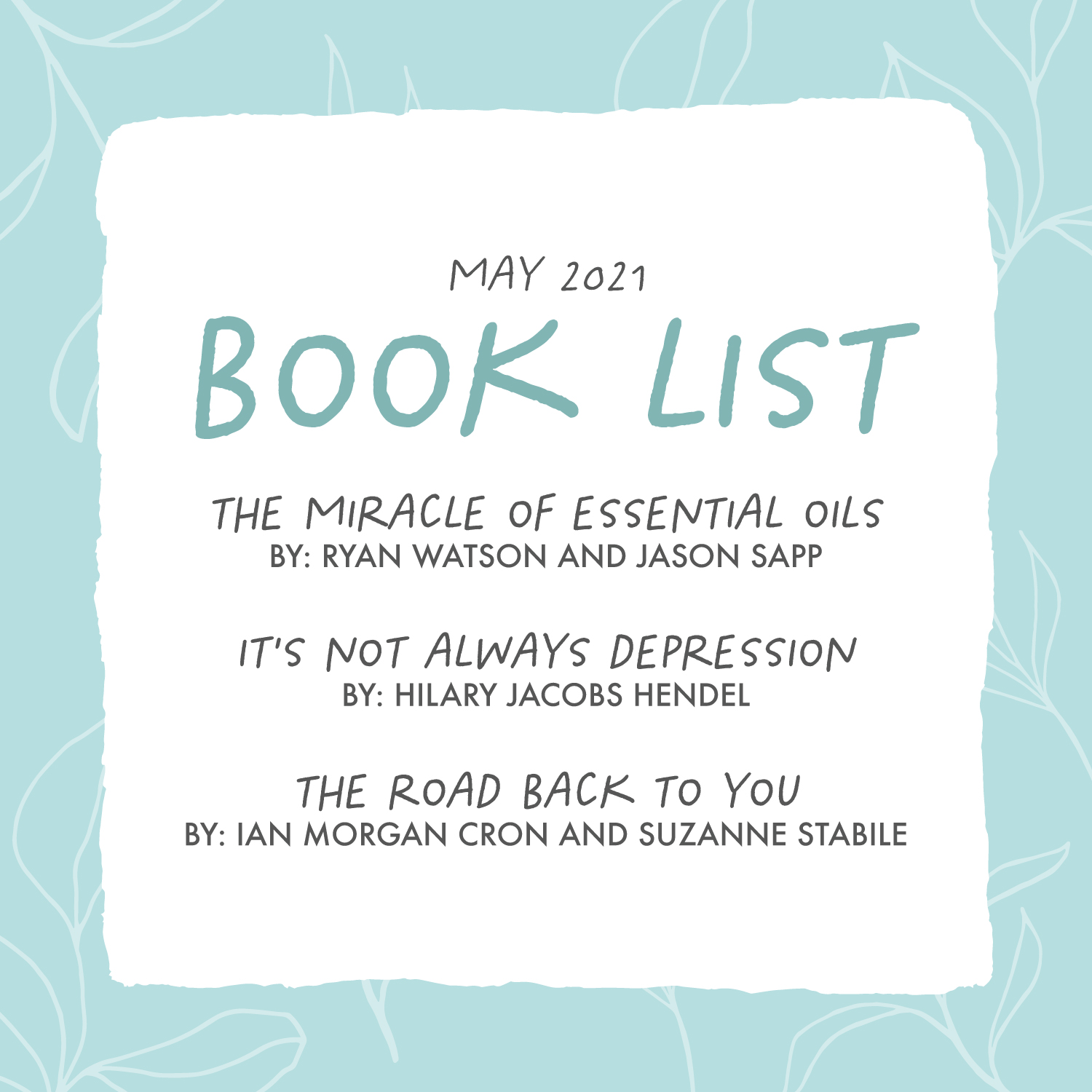 We all start at square one with our knowledge of health, but what matters is our willingness to learn and grow! Each month we have a selected list of books and resources to help us do just that.
For more check out the May Book List!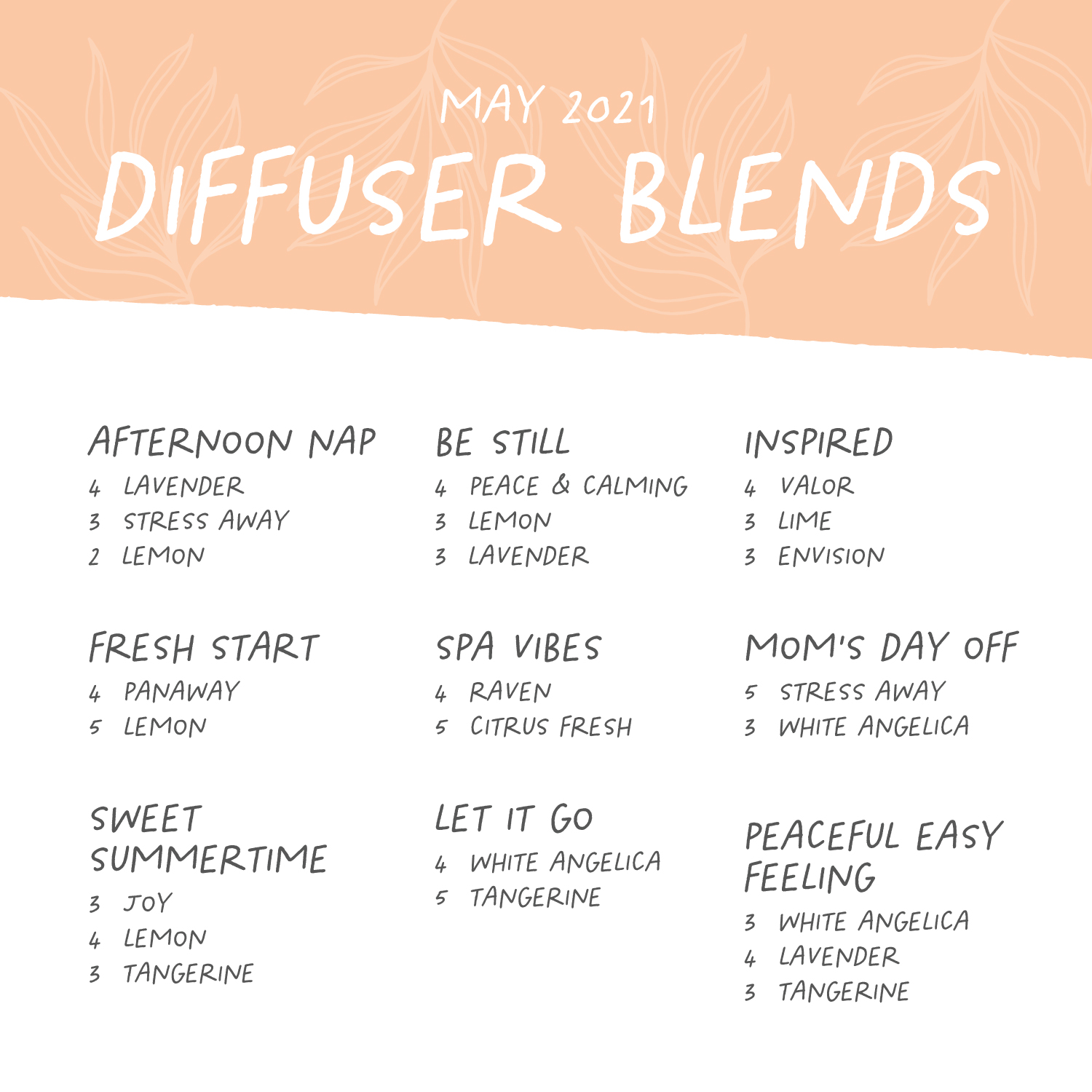 Summer is upon us and we are looking for an easy, breezy stress-free season! Diffusing is a great way to create a peaceful, uplifting environment, and the blends for May are perfect for that! We have blends for every time of day to support your health - physical and emotional. So join us as we release our stress, cultivate peace and rest easy this month!
Check out the May 'Diffuser Recipes' resource for all the recipes and info!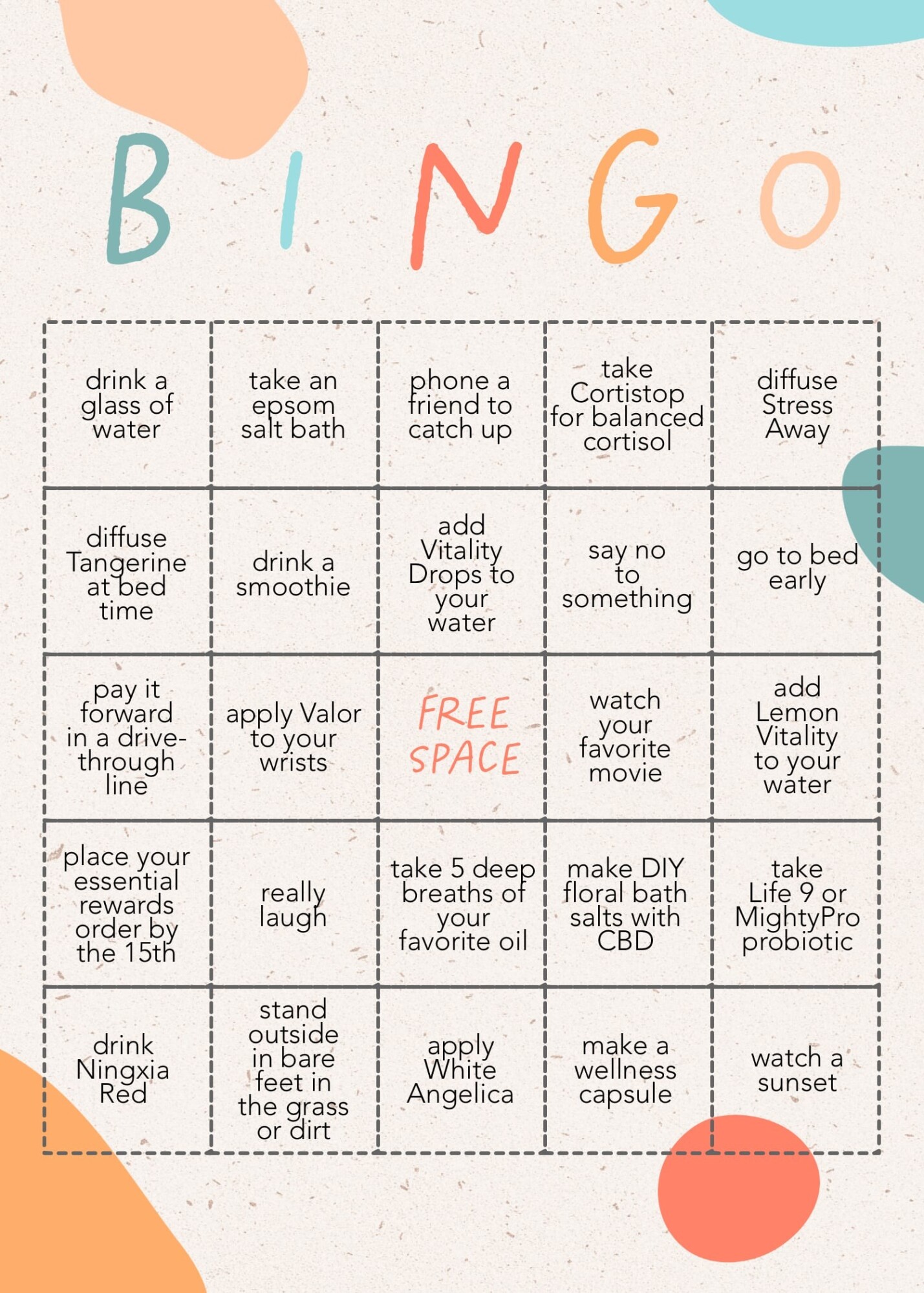 Cultivating great health doesn't have to be boring!! Join us this month by filing in this Bingo card as you take daily steps that will have a big impact on your emotional & physical health!!
Check out the May Bingo Card resource for more!